Our core business is Processing, Sales, and Export/Import of Precision Steel Tubes etc.
Below is a diagram of our process flow :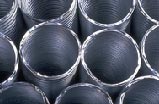 Mother Tubes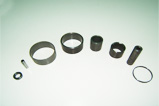 Tube Products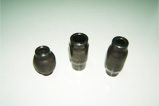 Cold Forged Parts
Material for making tubes (by Steel Mill)
Tube making
Precision tubes of several meters lengths
Precision cutting
Processing suitable for each component
Various finished components (for automobile, motorcycle, bicycle, farming machinery, etc.)
To our customers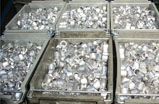 Koide Kokan Co., Ltd. is directly involved in this process from cutting and processing the tubes to acting as a mediator in the trading firm. Our commitment to our customers is that we will ensure that our products are made of the highest quality, efficiently processed, and delivered on time.
By utilizing all our resources, we are able to exceed our customer's expectations.
(1) Aggressive development in the global market
Following our main customers, manufactures of Anti-vibration Rubber for automobiles, we have established our bases in U.S.A. and Europe. We are further developing business in the Asian countries and the South American countries for the purpose of having necessary resources readily available to supply our products in these areas (as well as our domestic customers).
(2) Business development in each area
Not only economically are we making an effort to absorb the demand of the market, we are making every effort to offer our products sufficiently supported by the technology required to keep up with those demands.
(3) To cover a large area by minimum workforce
Our goal is to raise the knowledge and skills of our staff company-wide. Our plan is to provide our staff with a vast amount of knowledge and then give them opportunity to gain the experience in tube processing as well as managing the necessary administration-type work. Taking the scale of our company into account, we are proud of business development in the global market by such effort and rationalization.